Biblical Advice on Parenting Teens: 10 Must Read Christian Books on Parenting Teens
If you're not looking for biblical advice on parenting teens, are you even in the teenage years of parenting yet? There's something about reading Christian books on parenting teens where I'm relieved to know I'm not the only in this challenging season.
Praise the Lord for those who have gone before us, survived, and wrote a book about it so we too can cross that finish line. Half-bald and crazed maybe, but still across the line.
Don't get me wrong. Teenagers are an AMAZING generation filled with loyal and loving people.
"Let no one despise you for your youth, but set the believers an example in speech, in conduct, in love, in faith, in purity." (1 Tim. 4:12)
Click To Tweet
However, it does take a lot of praying, understanding, and guidance to help these beautiful souls into adulthood with a healthy and firm foundation. It wasn't too long ago we were also bright eyed, naïve, maybe full of hope yet scared all at the same time. At least it feels like it wasn't that long ago, maybe not according to years but who's counting…amirite?!
As a Youth Leader in my former church for 11 years, parenting a teen for the last 5 and counseling many teens across the globe, these have been some of the best Christian books on parenting teens that I have read not just for my home but for counseling others as well.
Biblical Advice on Parenting Teens | Christian Books on Parenting Teens
<<Please note this post may contain affiliate links and ads, read my FULL disclosure here.>>
Captivating Revised and Updated: Unveiling the Mystery of a Woman's Soul
Understanding your daughter's heart is so important to her upbringing and there's nothing like the teenage years to illuminate just how important that is. In this book, you'll learn the questions her heart asks and where she will try and find the answers. It's a beautiful depiction of what she was made for, Who she belongs to, and how you can speak to those places in her heart that needs reassurance and affirmation. By leading our daughters with the guidance of God's standards, she will be in a healthier place to make those decisions that will eventually affect her future if not immediate present. This book enables you to understand her and love her in a way where she can feel both comfort and acceptance within her family and herself.
Wild at Heart: Discovering The Secret of a Man's Soul
What the Captivating book is to a daughter's heart, Wild at Heart belongs to the son. Again, you will visit the questions a young man asks and where he too will search for it. Understanding how to best steer your son's heart especially during the teenage years will serve as a foundation by which he will measure himself. You will find out why it's important he finds that answer in his Lord and Savior. Raising sons is so important because we have seen the results of when young men are left to their own devices. They will be the lead in their home and need the proper tools to be set off on the right foot for that kind of responsibility.
"But I want you to understand that the head of every man is Christ, the head of a wife is her husband, and the head of Christ is God." (1 Cor. 11:3)
Click To Tweet
This book lends understanding on how to best do that so they can be healthy not just for themselves but for society as a whole.
Unmasked: Exposing the Cultural Sexual Assault
In this book, you will find what plagues teenagers across the board and that's the fight for their sexual purity. We know dating, relationships, and sexuality are at the forefront of their minds whether they've grown up in the church or not. It also reveals a lot about the real consequences teenagers are facing in the midst of their sexual prowess. Many have answered the call to speak to these important issues and many have not. Regardless of what category you're in, you may learn something you didn't know before in this area. It is vitally important to take charge in this arena because even if at the end of the day they decide to choose otherwise at least you can stand before the Lord knowing you did what you could to both teach and stand for His standards. You can click here for more information on what NOT to do when talking to your kids or any teen about sex.
Parenting: 14 Gospel Principles That Can Radically Change Your Family
Never mind the rocking horse on the front cover, this book is for parenting children of all ages. If you're like me, I don't just have a teenager I also have two younger ones. I have found this book to be a great resource for all their stages in life from one going to Kindergarten to one heading off to college. While the information is meant to cut your heart a little bit (and ego if I'm going to be honest), think of it as more of a surgical remedy to what plagues us all. This book is jam packed with great information and I highly suggest it to anyone who has a child either as a preventative measure or as a restorative tool. It behooves us to be better not just for our family but as a representative in Christ for other families to witness.
Bringing Up Girls: Practical Advice and Encouragement for Those Shaping the Next Generation of Women
I read this book when my daughter was younger before she even hit the teenage years and I found it to be a great foundational resource. A woman's heart was created unique to that of a man and understanding how to navigate these intricacies can help create a safe environment and open communication for her to open up when the time calls. I love the fatherly language and heart this book provides especially as a resource for those men who may not have grown up in a home where a healthy father figure was present, this can be the resource for you to make a change for your home. It also is a help for mothers who may not have had a healthy form of parenting in her life.
Bringing Up Boys
Although I didn't read this book (because I have all daughters), I trust the author so I will recommend it. Feel free to write in the comments below if this book has helped you and what you loved most about it. I pray it will help those who once again may have not grown up in a home where a healthy form of discipline and love was modeled for the males in the family. Let us be the generation that will have violence and abuse of all kinds stop so they in turn can drive their next generation towards love and God's standards.
Shepherding a Child's Heart
Biblical advice on parenting teens can come from books like these which at first glance can seem like they are meant for the little ones. However, this book like Paul Tripp's have a similar heart behind it. It really cuts through many of the lies and deception when it comes to child rearing, depending on how you grew up. It brings in a very important factor we can often forget or not even realize when it comes to the best kind of parenting. Teens do yearn for the love we can easily give the little ones but can find it more challenging when it comes to the older ones. Not because we don't love them but because we may be having challenges in communicating with them or have gone through some stressful times that have caused trust to be lost. Click here for some tips on how to talk to your teen.
The Lifegiving Home: Creating a Place of Belonging and Becoming
When our kids become teenagers, we don't realize just how much our home can be a haven from their stressed-out world. Many of us didn't grow up with that so it can be difficult to recognize that's what's needed or how to create this place in our home where they can find breath in. Teenagers crave family. It's the reason why we see cliques, gangs, clubs, and the like. They want to feel included, loved, a part of something and place to go to so they can experience that. This book gives amazing ideas on how to do just that. This way it gives the opportunity for not just your teen to feel at home but it can possibly open the doorways for others to feel the same as well. Believe it or not, they still enjoy the childhood things. It brings comfort so include them (even if they fight you at first, I've noticed they start to enjoy it once they are involved).
The Fringe Hours: Making Time for You
This book is more for the parent but definitely relates back to the teenager for the simple fact that we can't give them what we don't have for ourselves. We are all so busy doing for our kids that we can forget we need time for ourselves too. With all the travel, school activities, after school activities, church programs, cooking, working (if you are a working parent), and whatever other hat we are called to where, we can find ourselves completely exhausted and emotionally spent. It's no wonder we are having issues with our teenagers and I'm sure other people in our lives. This book gives us ideas on where to cut back and how to give ourselves time so we can truly love the way we want to.
Teenology: The Art of Raising Great Teenagers
Although this book is a little outdated because of how much more technology has advanced since it's been published and in relation effecting teenagers at an even harsher alarming rate, it still has great principles that can be applied to today. The heart of the author gives greatbiblical advice on parenting teensboth in his knowledge with working with teens and entering his own world of raising teens. It gives a holistic (not in the New Age kind of way) view on the teen as a whole and quick tips on how to address those issues that teenagers are struggling with today.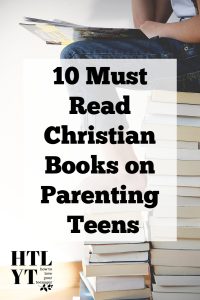 These Christian books on parenting teens are some of the best I've found that truly delivered some great biblical advice on parenting teens. There are definitely more on my list to be read. If you have read a book that you've enjoyed on this topic, please share the title and author in the comments down below.
I pray whatever we learn from these authors we will put into practice. One thing I've learned in working with both parents and teens is this, teens want to be loved and parents want to love them. Let us encourage one another in doing just that.
Baskets of Blessings,
Nina Daugherty