Praying for Your Children: 6 Reasons Why You Need to Pray for Your Teen
When researching praying for your children, I noticed there weren't many searches specifically for 'praying for your teen'. Are you praying for your teen? I wondered why especially when the teenage years are some of the hardest.
Why does it seem like parents stop praying for their children after a certain age? Why does that age range happen to be around teenage years?
"Praying at all times in the Spirit, with all prayer and supplication. To that end, keep alert with all perseverance, making supplication for all the saints," (Eph. 6:18)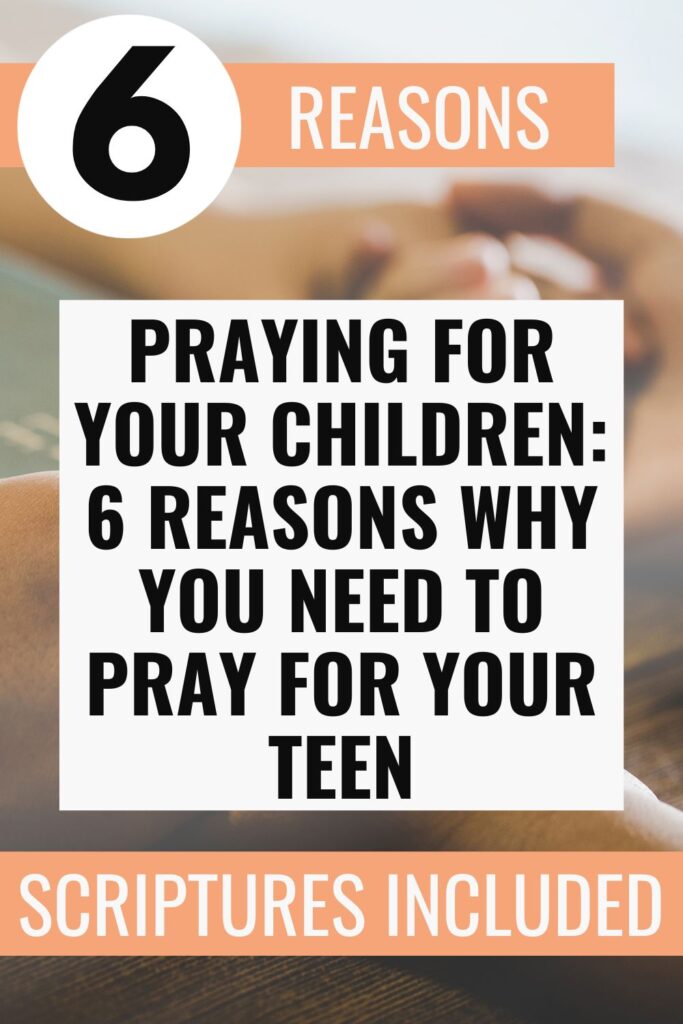 Praying for Your Children: 6 Powerful Reasons Why Praying for Your Teenager is Necessary
They are not only our teens, but those who have called on Jesus Christ as their Lord and Savior means they are included in the body of Christ aka "the saints" talked about in this scripture.
Even if they haven't accepted Jesus Christ as their Lord and Savior this doesn't mean we stop praying for them. If anything, we need to stay praying for them.
Long story. short. We need to pray for our teenagers. Here are some reasons as to why…
1) No one else will pray like you pray.
Yes, there may be Pastors, leaders, strangers, and those around who may pray for your teen, but no one sees, loves, and experiences them the way you do. No one can pray as fervently as a parent can.
Can people take over when a parent is absent? Absolutely! However, if you claim Jesus Christ as your Lord and Savior, and you are the parent of teenagers, no one will pray the way you can. Also, no one has the same level of influence as you do.
2) It's your job.
The Lord gave those teens to you. Oftentimes, I see parents giving their children off to Youth Pastors and Christian leaders as if it's their job to raise them up in The Lord.
Newsflash! Praying for your children is your job. "Training in the way they should go…" is your job. Christian leadership are called to be backup, a side resource, but not the main person to do the job.
Unfortunately, we are so used to dropping off our kids and outsourcing that we think it's the same with our faith. It's your job, so take hold and ask The Lord to show you how.
3) It's your bloodline.
They are in direct line of your generations. What happens to them will carry down through the generations so what do you want them to carry?
If you have addiction, divorce, abuse, mental illness, or any other demonic assignment against your family, prayer will break these things off. Make it a point that it stops with you.
Praying for your children, asking for wisdom on how to raise them which may very well be completely different from your upbringing, will change what travels down your bloodline. No one else can do this like you can.
4) It's their future on the line.
Praying for your children, including your teenagers, will help protect them. It will help protect their future spouse, children, career, faith walk, and anything The Lord has for them.
By praying, we are redirecting or demolishing the enemy's schemes and tactics against their life. When borders, attitudes, or influences are bombarding them, our prayers have the power through Jesus Christ to block, tear down, or lift up anything standing in their way of a Godly, healthy, and safe life.
If we don't, who will? We are not called to give that job to anyone else or trust anyone will do it to the extent we are called to do it.
5) It will show them you love them.
When teens hear their parents praying for them in honoring ways, it makes them feel loved. Think about when people pray for you especially when you have been going through it or may have been extremely unlovable.
It gives you hope. It brings you to repentance. It changes and reaches something inside of you that only God's power can do. Our teens are no different. Praying for them is a form of love and may reap beautiful fruit. Don't be afraid to do it with them.
6) It reminds you that they are His.
As parents, we often forget that our teenagers are His first. Yes, we get to steward their lives, but they are ultimately His.
It changes how we treat them. It reminds us that they are called to be molded and not mistreated because they are acting a certain way. We are called to love, pursue, and not neglect the treasure the Lord has bestowed upon us.
Some people treat ministry kids better than their own kids. This is not to be so! Love them and do it in front of others, but especially pray for them.
"Fathers, do not provoke your children, lest they become discouraged." (Col. 3:21)
I pray this will help remind you that in praying for your children you don't stop including your teenagers. Don't give up on praying for them. Even if it starts to get really bad when you start, that's usually a sign that there is breakthrough coming and the enemy is upset so keep going! Make him mad and pray even harder for your teenager when this happens.
Find that inner Mama or Papa Bear roar and let it loose on the enemy with your prayers.
Again, praying for your children shouldn't stop when they are teens and then pick back up when they are young adults.
Stay praying for them and include them when you can. Ask them if there's anything specific they need prayer for. Set an alarm to ask and to pray at the same time everyday. Pray, pray, and pray some more!
Don't give up. Your teen is counting on you.