How to Survive the Teenage Years: 6 Practical Ways to Help Parents
I typed into the Google search bar, "How to survive te…" and waited to see what would pop up. Does anyone else do this? Anyway, I noticed amongst "How to survive terrorist attack, teething, terrible twos…" within the top 10 searches there was, "teenage years and teaching high school." Wow! Right there with terrorist attacks and teething?! Clearly being a teen and dealing with a teen is a popular concern for many. However, it doesn't have to be.
"But the wisdom from above is first of all pure. It is also peace loving, gentle at all times, and willing to yield to others. It is full of mercy and the fruit of good deeds…" (James 3:17)
As someone who has worked with teenagers for 11 years as a volunteer (yes I did not get paid for this) at my church's Youth Group and a Mom of a teenager for almost 4 years now, I can tell you that the teenage years can in fact not only be survivable but it can be enjoyable too. So how does one achieve such a mighty task? Here are a few practical ways to help you survive teenagehood (yes I made that word up unless it's already in existence somewhere…loll!):
1) Get your mind right!
If you enter the teenage years trembling in your pants or with a negative outlook, you're setting yourself up for failure. It's like with ANYTHING! I remember a Youth Pastor exclaiming his woes when his then toddler would become a teenager. A Youth Pastor! I told him, "Out of all people, you have the skills already in dealing with teens. Take those skills and use it in your home!"
"Finally, brothers, whatever is true, whatever is honorable, whatever is just, whatever is pure, whatever is lovely, whatever is commendable, if there is any excellence, if there is anything worthy of praise, think about these things." (Philip. 4:8)
If you are already dreading the teen years and are looking at your blossoming child like a mosquito bite waiting to happen, then you will have a difficult time. Walk into this season with authority God gave you! Look at the teenage years in the face and say, "We are going to get through this together, we are going to not only love it but like it, AND we are going to have fun!"
Get your mind right!
2) Incorporate your village.
Yes, it takes a village to raise a child and I happen to love mine. Create a support system of people who will help speak life not just into you but also into your teen. There are both men and women in my teen's life who are honorable and rooted in the Word of God to help listen and lead her. If you don't like your village, change it, put boundaries, and ask God for guidance in all matters.
"Where there is no guidance, a people falls, but in an abundance of counselors there is safety." (Prov. 11:14)
Talk, discuss, and listen to what others have to say about what they see in your teen and how to help them. This is not a time to be offended but to open your heart and eyes to experience something you might not otherwise know.
A teenager needs many avenues to which she can run in case you are not available for whatever reason.
3) Prepare yourself or reinvent your teen skills.
It's never too early to start loving your teen. Even before they hit the teen years, everything you do now will help set the foundation for when it comes. They will have to battle a lot of lies so this is necessary in setting them up early for success (for more info on what those lies sound like, click here).
What does that mean?
Talk to your kids now! Discipline your kids now! People think it's cute when toddlers are cursing or twerking but then can't handle it when they are a teen because it means something now. Well, it meant something back then too!
It created the space for sin to do what it does best, "hide" and then multiply.
I don't have to worry about my daughter walking out the house with her shorts being too short or her stomach hanging out. Why? When she was five years old she had shorts under her dresses and I taught her how to layer her clothes. She's one of the most fashionable people I know but she's modest at the same time.
Is it too late for me?
Many parents of older teens ask this question and the answer depends on your situation meaning they may not be a part of your life in whatever aspect. However, I believe if your teen is still living under your house or if you have the option to be someone a teen in your influence needs, then the answer is NO! It's not too late but it may require some work and that's okay because they are worth it.
4) Give them purpose.
"For I know the plans I have for you, declares the Lord, plans for welfare and not for evil, to give you a future and a hope." (Jer. 29:11)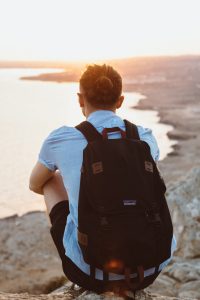 They have purpose! Help them find it. Go to college fairs, volunteer at various events, send them to church youth retreats, set them up with people in your village in various careers to help answer questions, and talk about their interests.
Teens get in trouble because they have no sense of direction or purpose. Take them outside of their environment, especially if it's a troubled neighborhood, and show them there's a bigger world than they ever imagined!
When you give them space and opportunities to help them find their purpose, you give them reason to make Godly and wise decisions.
God HAS a plan for them. Help them find it and you'll have a smoother teen year ride. For more tips on how to do this, click here.
5) Pay attention to their friends.
From the very beginning of your kids making friends until as long as necessary, filter, filter, filter! Every household is going to be different as far as how intimate your ministry with teens will be. In my house, I remember having to tell my daughter, "I'm in the ministry of teens but you come first so if I find someone to be a bad influence then I will not have them in my house." This can look different to many people and some people may disagree with me. However, if a teen is in my house, wants to test my rules, become disrespectful, and cause disruption in my home and relationship with my daughter, then they are not welcomed. I have to release them to God and remember my home is my first ministry.
"Do not be deceived: "Bad company ruins good morals." (1 Corinthians 15:33)
Friends can be a tricky situation especially considering they are with them at school for a good amount of time. But, God! He will reveal, direct, show you, and guide everyone in ANY matter. So bring it before God, constantly, and ask for direction! This leads me to the final practical way of surviving the teen years.
6) Pray, pray, pray!
I can't tell you how many times the Holy Spirit has lead me to save, know, and see things about my teen that are humanly impossible! One time I was napping, woke up, and was led to my Facebook where there were several articles posted about a certain TV series that was popular and causing quite a stir because of the graphic nature of suicide it was glamorizing. Holy Spirit was like, "Text her now!" I literally couldn't text fast enough (she was at her father's for the weekend) and ask her if she had seen this series. She replied, "Oh my gosh…that's so crazy…I was literally going to press play right now!" I quickly told her I didn't want her watching the series and she was amazed at how the Holy Spirit stepped right in to protect her. How amazing is that?!
Here's the thing though, I know God's voice and I know when He is speaking to me. How? I pray!
"And pray in the Spirit on all occasions with all kinds of prayers and requests. With this in mind, be alert and always keep on praying for all the Lord's people." (Eph. 6:18)
Your teen is part of the Lord's people so get to it!
Teenage years don't have to be scary but you must be prepared. Here's the other thing too, it doesn't have to be regret either! Even if you're in the throes of teenagehood right now and everything seems to be going all wrong, nothing is impossible with God. Maybe your teen is no longer a teen and has moved on, maybe you can have a conversation with them, get therapy together on mistakes made, or be the person you wanted to be to another teen in your life. He is still a God of miracles and He is still a God who resurrects! Every moment is a chance to make things better. We can do this!
Basket of Blessings,
Nina D.